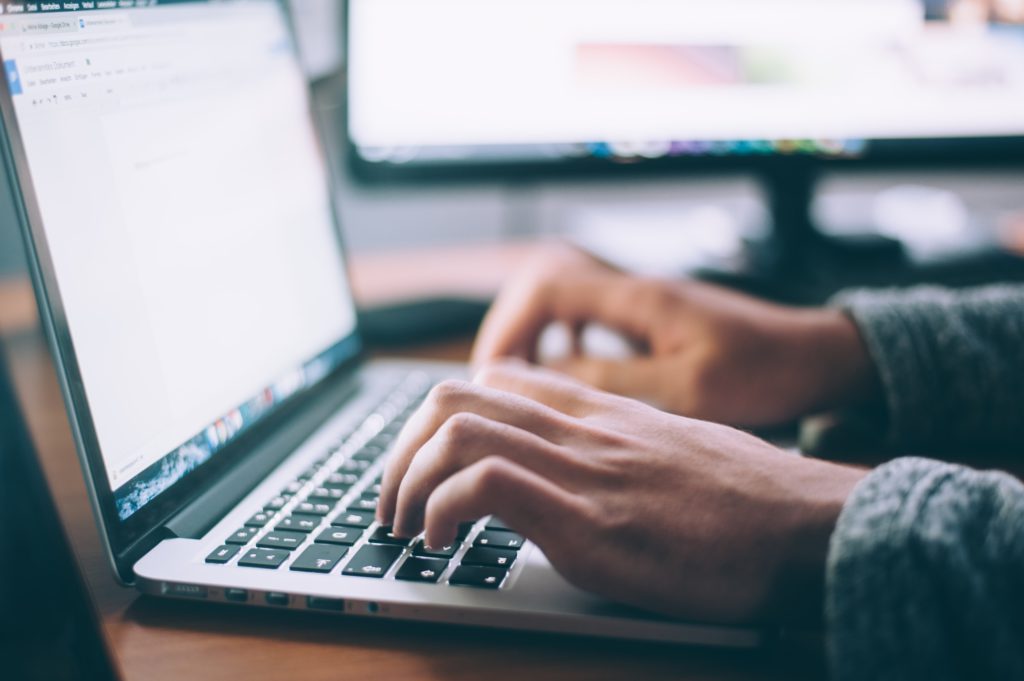 Being able to download videos from Facebook and other streaming sites has become essential for both the simple user of social networks and those who practice a digital profession.
However, did you know that it is also possible to download videos on TikTok, Dailymotion, Vimeo, Metacafe, and many, many more, thanks to a simple online application, and manage to have a great downloading speed?
Why do we need to download videos from social networks?
It is not uncommon to come across relevant and interesting videos while surfing social media. Videos that we would love to download and come back to at any time, even offline. Since we don't always have time to watch them right away, we'd like to save them and come back to them at any time. These could be tutorials, cooking recipes, commercials, music videos, or whatever the subject. For example, to easily download 4k videos from Facebook, Vimeo, TikTok, etc, there are many apps dedicated to your help. But not every video downloader app works properly, right? I will try to help you decide. And I will provide all the necessary details for you to choose YTD Video Downloader & Converter as the best fb video downloader and the best suitable option for your needs.
Downloading Facebook videos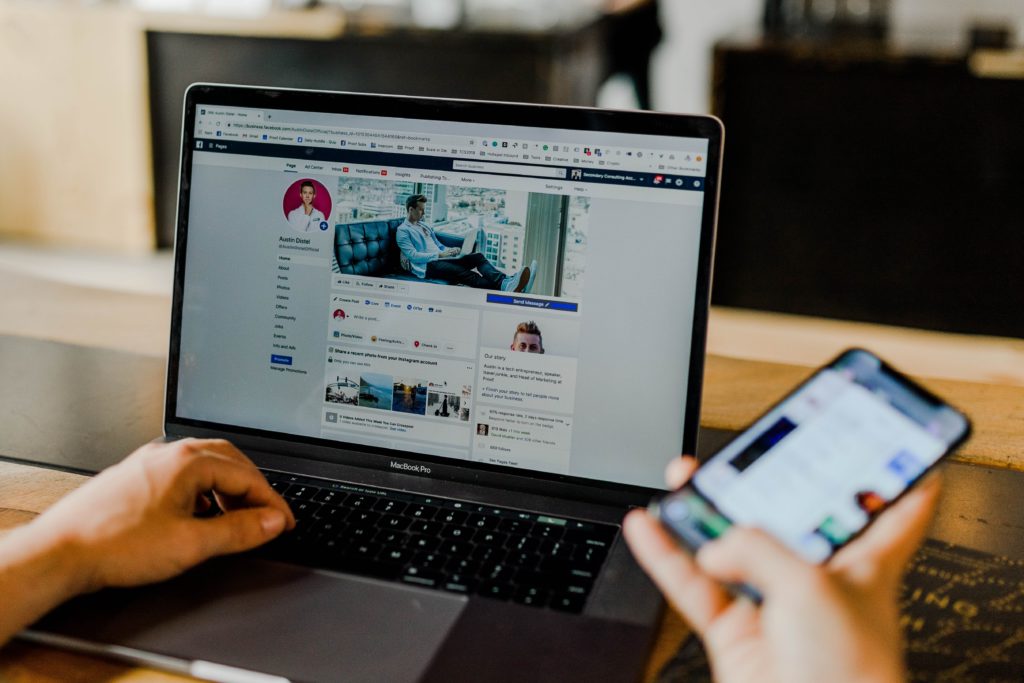 In a very short time, Facebook has become one of the major social networks for the distribution of videos, especially for entertainment. However, Facebook is a poor search engine compared to YouTube, which is the second-largest search engine in the world. It is therefore essential to save your Facebook videos as soon as you can see them appear in your news feed or elsewhere.
Online help to download fb videos
Natively, Facebook does not give the possibility to download a video simply via the advanced settings available next to its video player, so you have to use external online services or extensions to achieve this.
Fortunately, with the help of a few websites, extensions, apps and tools on different browsers, it is very easy to download any Facebook video directly online.
How to download videos from Facebook with Facebook Downloader
YTD Video Downloader & Converter is 2021 best free video downloader for Facebook and you can use it as Facebook Downloader. The use of YTD is very simple. The program is translated into various languages and offers a very easy to use interface for users to download. Obviously, before proceeding, you need to download and install YTD Video Downloader on your PC and then click on the green "Free download" button on this page. At this point the browser will show you the downloaded executable, it will be named "YTDSetup" (if you use Chrome you will see it in the lower-left corner). You can then simply start the installation by clicking on it, the system will ask for authorization and the procedure will be launched. To complete it, just click on the "Accept and install" button and then on "File". The installation must be done only the first time you use the program, then you can launch it when you need it conveniently from the Start menu.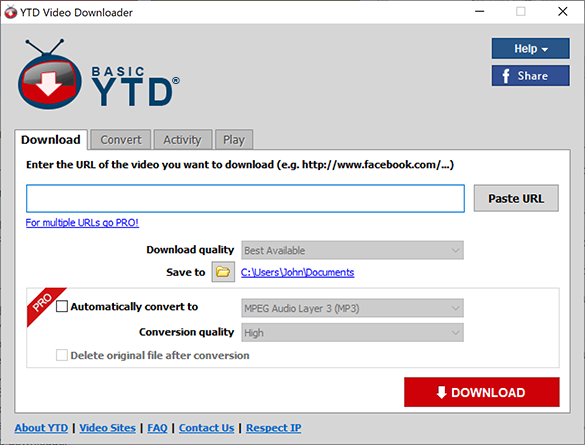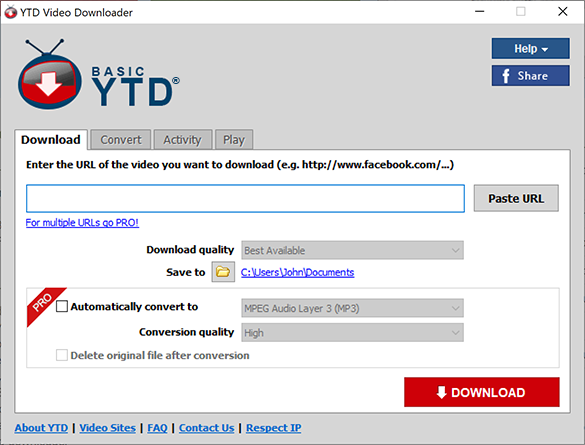 YTD easy-to-use download experience
After having installed YTD Video Downloader just follow a few simple steps to download your first Facebook video:
Go to the page from which you want to download the video url and from the address bar, with the left mouse button, highlight the page address/video link;
Then click on the highlighted address with the right mouse button and in the contextual menu press "Copy" (you can also use the key combination "CTRL + C");
Go to Start and launch YTD Video Downloader;
Click on the "Paste URL" button;
In the end, to start the download, simply press the "Download" button.
Before starting the download and save, you can customize the download quality through the appropriate drop-down menu and the folder where our videos will be stored. Those automatically set are the best available quality and the "My Documents" folder.
Best Facebook Downloader
Once the file has been downloaded you can have a video editor so, if you want to convert it to another format, perhaps to use it on our device, tap to move to the "Convert" tab, open it, choose the format, quality and finally click on the "Convert video" button. If you choose to use the Pro version, on the main screen you can opt for automatic conversion, just to save time.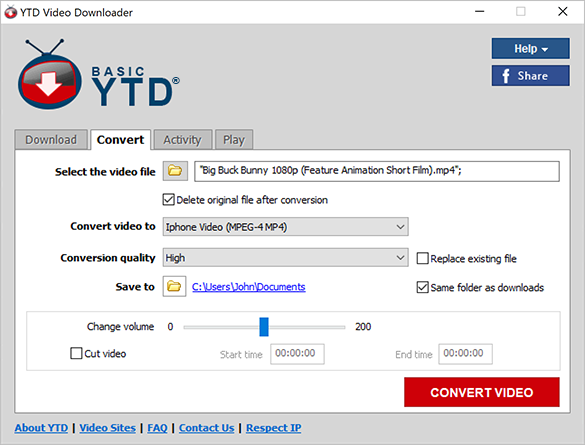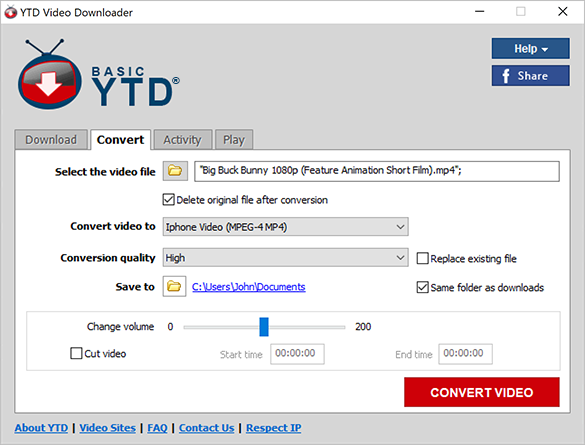 For the YTD Pro Version, the application has reserved some functions for Pro Users. The paid version of YTD Video Downloader allows:
the download of entire playlists with a click;
to download multiple videos, simultaneously, from the same or different sites;
to convert multiple video files at the same time;
automatic conversion to the chosen format;
to pause and continue downloading videos;
to have email support.
Your download is now ready. If you want to integrate the video on the web, consider choosing an SEO-friendly mode of integration so as not to impact your loading time.
Important Note
These tips will let you download and save any video on Facebook, even copyrighted ones. Before reposting it on your page or your YouTube account, make sure you have the right permissions under penalty of possible prosecution and fines (the best is to ask the consent of the author of the video and then to tag it in the publication that distributes the video).
To conclude, I definitely hope I made your decision a lot easier and that the download process for videos from multiple streaming sites will be fun and easy. Do not forget that YTD Video Downloader & Converter offers a 7-Day Free Trial, so you better not miss it, it is one of the best HD video downloaders on the market.