Vimeo is a collection of high-quality movies, videos and animation from people around the world. You may want to save your favorite videos to your computer so that you can watch them without being connected to the Internet or other devices. Below are the steps required to download and watch Vimeo videos for free on your computer.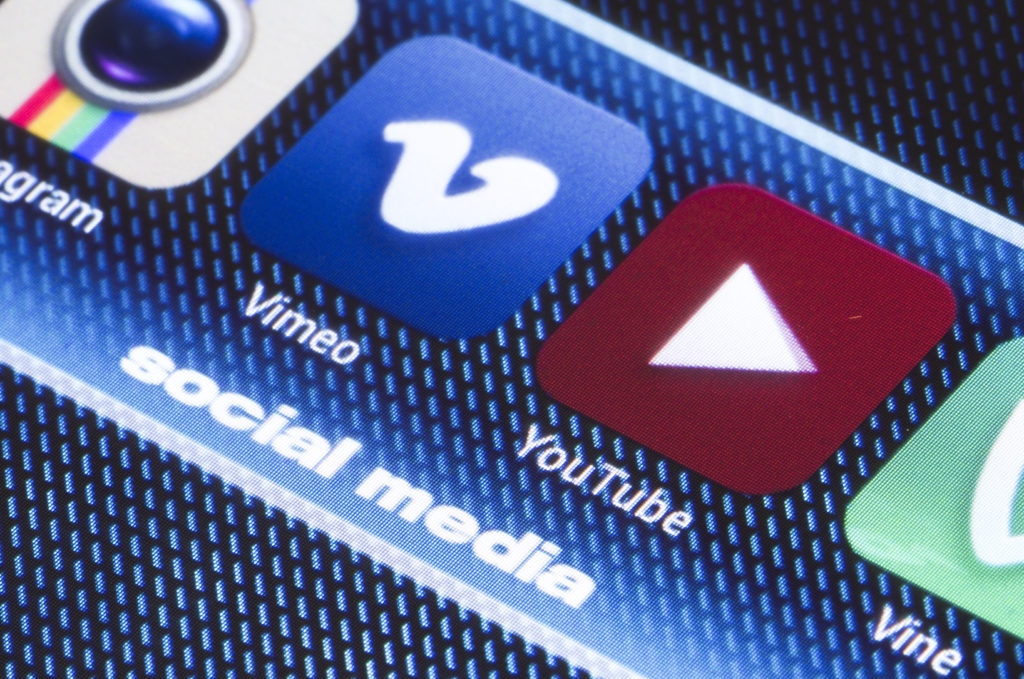 Unlike other video services, many videos on Vimeo can be downloaded using the download button below the video. If this button is available, click the button to view formats available for download.
If you want to download Vimeo video, you can do it through a video downloader & converter. It works exactly the same as it does for YouTube. But be aware that some videos are copyrighted. If the owner of the video does not provide access to the copy of his work, he can demand compensation for the damage.
Step 1: Choose YTD Video Downloader & Converter
The easiest way to download videos from Vimeo is to use a video downloader. You should be careful which one you choose, as there is no guarantee of the quality of the downloads and some of these services may contain intrusive advertisements. We recommend YTD Video Downloader & Converter. Its interface is intuitive and easy to use.
Step 2: Copy the URL of the Vimeo video
To get started, find the Vimeo video you want to download and copy its URL from your browser's address bar. Then go back to YTD Video Downloader & Converter and paste the URL in the box shown. Click the Download button to start the conversion.
Step 3: Download your Vimeo video
Before starting the download and save, you can customize the download quality through the appropriate drop-down menu and the folder where our videos will be stored. Those automatically set are the best available quality and the "My Documents" folder.
Just click Download and the video download process will begin.
I still can't download the video
If after following the steps above your download does not work, make sure the link you are using is working by opening the page in a new window. Once verified as working, try the above steps again. If the steps still don't work, please make sure that you have the latest version of YTD by going to Help > Check for Updates or by downloading it from our website.
Another step would be to check the type of internet connection you are using (e.g: wi-fi, lan, cable, satellite).
If you receive a "Failed 2" error, please make sure YTD™ is added to your firewall's list of allowed programs.
This issue could appear because of the antivirus software used by you. You can try to fully disable the antivirus protection and see if the issue persists. If it works please check your antivirus settings in order to receive the right protection.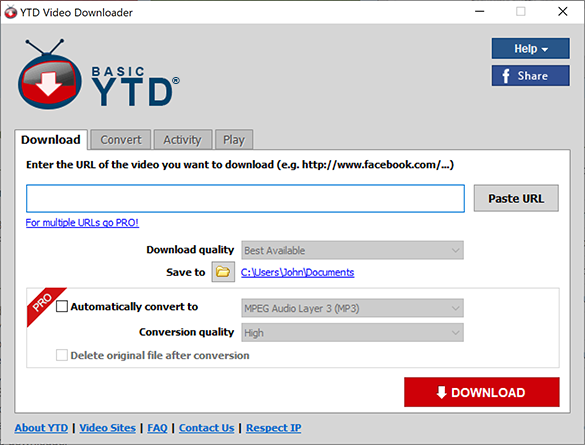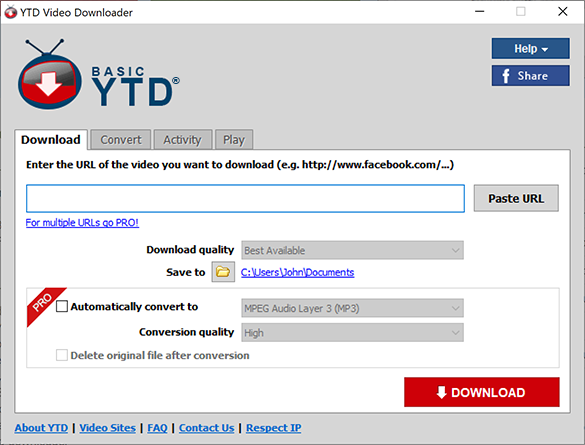 YouTube vs. Vimeo: what are the differences?
We also decided to compare the pros and cons of two of the most popular video hosting platforms: YouTube and Vimeo.
| | |
| --- | --- |
| YouTube | Vimeo |
| Wide range of users, comments and opinions that are not always constructive | Community of mostly mature users, constructive comments and opinions |
| Free use | Various plans, free or paid (Plus, PRO and Business), each with their own authorized storage space |
| Inability to edit a video while keeping statistics | Ability to correct a video without losing statistics |
| Advertisements everywhere | No advertising |
| Ability to schedule broadcasts, unranked and private options | Password protection option, and many more |
Both of these platforms are great hosting solutions. But both have very different characteristics. Understanding these differences will help you choose the one that best suits your needs.
User Communities
Before you start recording a video, you should always ask yourself: who is my target? This question is even more important as YouTube and Vimeo have different user communities.
The YouTube community is very large, with over a billion users watching hundreds of millions of hours of content every day! Such a large audience is a source of risk. Indeed, you may be faced with aggressive and disreputable users who will not hesitate to tell you exactly what they think about your video. The YouTube community produces massive amounts of videos, but remember that quantity doesn't always mean quality.
On the other hand, Vimeo has a much smaller community. Of its 170 million users, approximately 42 million reside in the United States. The Vimeo community is generally highly motivated, and many of its members will provide more constructive reviews and comments than on YouTube. Another notable difference is that with a smaller community you will often find a higher production quality.
Security options
Vimeo offers password protection for content. This can be useful if you want to review a video with customers before it goes live. The platform also offers a variety of other security features
YouTube allows three options: public, unrated, and private. Uncategorized means that only those who have the link can view the video, while Private means that only those you invite (and have an active YouTube account) can view it.
Video editing
Have you ever uploaded a video and realized afterwards that you wanted to make corrections?
Vimeo allows you to edit a video once downloaded, without losing the stats that pertain to it. This can be useful if you realize you've made a mistake in your video, or if something like a name needs to be updated after the fact.
However, when you upload a video to YouTube, it cannot be edited without completely erasing the file and then uploading a new one, which results in losing all your views and stats in the process.
If you are using YouTube, carefully check its content of your video, because once posted on the platform you will not be able to change anything there.
Subscriptions
Vimeo offers four subscription options: Basic (free), Plus, PRO and Business. These four options are each related to authorized storage capacities and different functionalities. Vimeo does offer a free subscription, but it's limited to 500MB of storage space per week, which isn't much.
On the other hand, YouTube is completely free, with unlimited storage space in hosting. YouTube makes money from advertising and doesn't offer monthly or annual subscriptions like Vimeo.
However, YouTube now offers also a paid subscription, called YouTube Premium, which eliminates all advertising.
Content protected by copyright
YouTube will detect copyrighted music files or images almost immediately after downloading and will disable those items if you do not have permission to use them. This can help you verify that you are not violating a copyright without realizing it.
Vimeo on the other hand is not that strict and will not disable your content. If you choose Vimeo, keep in mind that you are technically committing theft if you do not own the rights to any media included in your video. It is imperative for you to verify this point before sharing your content.
Advertising
You will notice that YouTube streams videos everywhere, both on the website and within the video player itself. If you are a marketer, you will be free to reach your specific targets on YouTube with perfectly tailored ads. But if you're on the other side of the fence, you may not like it.
Vimeo, on the other hand, prides itself on preserving its site from all advertising, and you will not see any before, during or after your content. For the same reason we gave you earlier: the subscriptions paid by its users are its only source of income.
So… what decision to make?
In conclusion, the best choice really depends on the target you want to reach, as both platforms offer great solutions for companies that want to invest in the world of digital video.