YTD Team is not going to stop on what we've done and always strive to improve your experience! This is why we have recently developed and launched something you have been expecting from us this past year: YTD 7.0 is now Live!

This Version has a New Look, is completely clean and brings more awesome features than you may think. So rest assured: it's the best video downloader on the market.
Why choose our brand new YTD Video Downloader and Video Converter
If you're currently looking for the best video downloader in 2023, you've come to the right place. YTD 7.0 offers a better user experience and unlimited video downloads and playlists from streaming sites.
With YTD Video Downloader advanced panel you can monitor video downloader and video converter activity, download multiple videos at the same time and access your videos when offline.
But if you need more reasons to choose YTD 7.0, well, you will also Convert videos to iPhone, iPad, MP4, WMV, AVI, MP3 and more, have an Ad-free experience and no installer offers, Download 8K Videos at Ultra Fast Speed.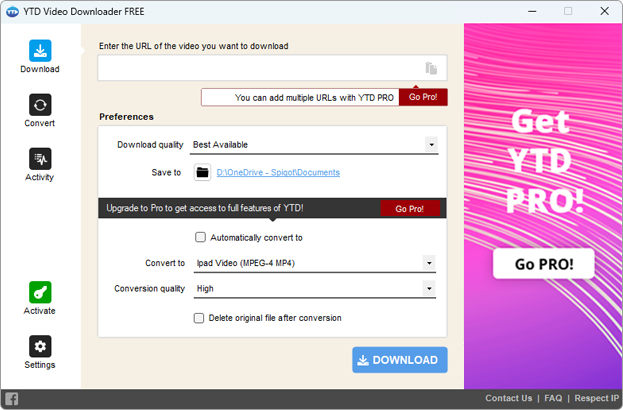 The Best Video Downloader Trusted by Millions of Users – Improved Version
YTD 7.0 lets you convert and download videos from many popular streaming sites in high-definition quality. You can convert the videos you download with YTD Downloader to a number of different video formats: .mp4, .mov, .wmv, .avi, .mp3, .3gp.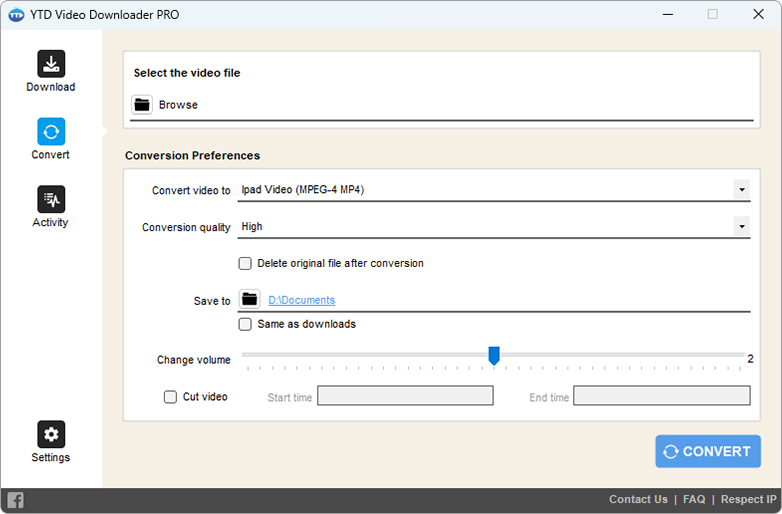 With YTD 7, you can download thousands of videos for free from some of the most popular streaming sites, and get this:
Advanced panel where you can monitor activity
Faster (up to 4x) download speed
Automatic resume/retry when internet connection fails
Ad-free experience and no installer offers
Download multiple videos at the same time
Free email support
How To Download Videos with YTD Video Downloader
To download videos with YTD Downloader, the first step is to install YTD Downloader on your device. You can now download our new and improved version Here.
After the install, open YTD and go to Activate > License Number> Enter license and click Register in order to activate YTD PRO.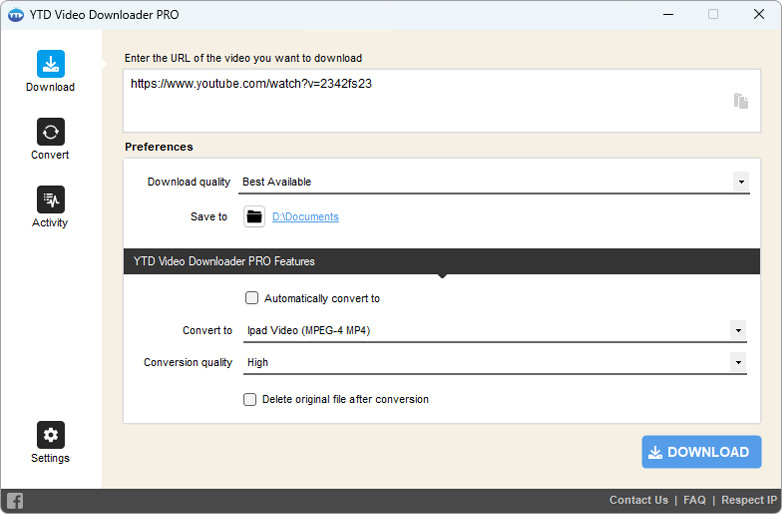 Once downloaded, you'll just have to paste the URL of the video you want to download into YTD Video Downloader, select the video quality you want to download, where you want to save your video and then click "Download".
Our process for downloading videos is quick and easy, and using YTD Downloader requires very little technical knowledge. Once you've downloaded a video, you can also use our tool to convert the video to another file type for use on other devices or with different media players.