Most people think of video content when they hear the word YouTube, but the platform has evolved beyond being just a video-sharing platform. These days, everyone wants to know how to download music from YouTube.
You can find plenty of high-quality audio content, from great music, sound effects, podcasts, and online courses, to meditations or yoga lessons. YouTube has something for everyone, whatever your needs.
Having the ability to download music or audio in general from YouTube can be very useful. After all, YouTube is one of the biggest platforms in the world, and it hosts tons of great music that you may want to listen to.
Needless to say, then, the ability to download audio will make your life easier. To do this, you need to have either a YouTube Premium or a YouTube Music account.
However, this restricts access to the downloaded content within the YouTube app, limiting your ability to transfer the files elsewhere.
There are better ways to download music off YouTube, though. In this article we will explore the best free and legal methods to download audio content (whether you're looking for the latest album of your favorite artists, audiobooks, podcasts, lectures, courses, TED talks, or speeches) legally from YouTube, from the easiest to the most difficult.
So, let's deep dive into all the methods for how to download music from YouTube legally and for free, ensuring you stay on the right side of copyright laws while enjoying your favorite audio content anytime, anywhere, without relying on YouTube Premium. Ranking all the methods we'll explain:
Online video downloaders (the easiest method): While it may be the most convenient, it is also the one that comes with the most security risks for your devices if you don't choose a reputable website. You don't need to install any software, just paste the YouTube URL into the designated field.
Downloading an app/software: When you choose dedicated software (like YTD Downloader or 4K Video Downloader, for example), you know that you are getting a trustworthy ally, and your download speed will be much better. This may not be the easiest method, but it is undoubtedly the best.
Browser extensions: This is a convenient way to download audio content and video directly within your browser. You will get a Download button on the YouTube video page. Again, like with online video downloaders though, you may have a hard time finding a trustworthy source here.
Command-line tools (most difficult): Tools such as youtube-dl or yt-dlp will bring a powerful and flexible way to get the content that you need, but they are more difficult to use if you are not familiar with command-line interfaces.
How to download music from YouTube to your PC
Download and install a YouTube audio downloading app/ desktop software
Use YTD Downloader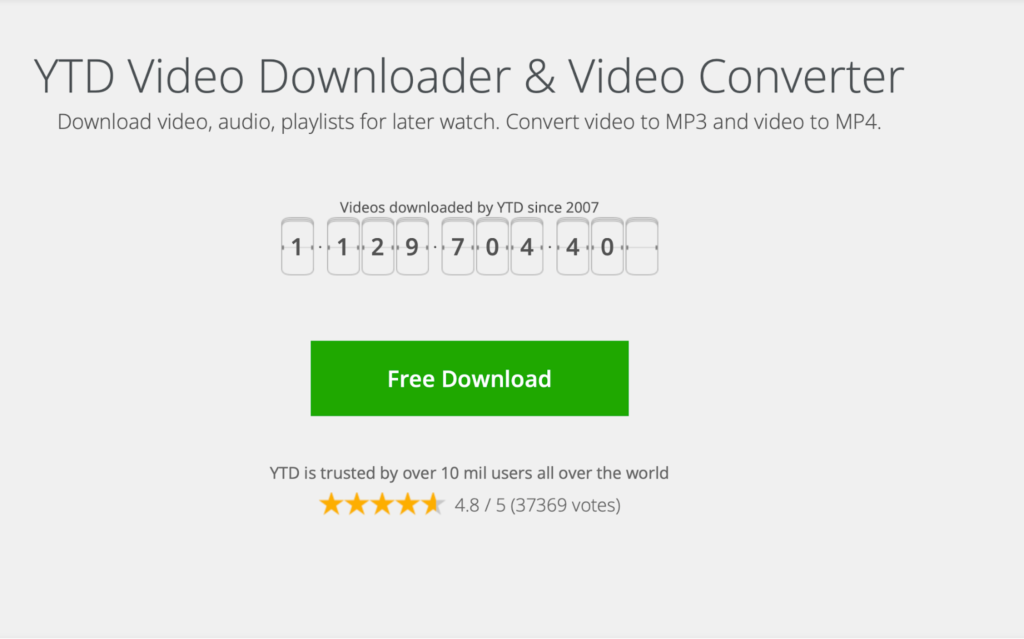 This is, without a doubt, the easiest and safest way if you are asking yourself how to download music from YouTube. YTD Downloader lets you easily download videos from YouTube, which you can then convert fast to the audio file of your choice.
Pros:
Download free video and audio content from 50+ sites
You can convert most video formats to audio versions easily
Very easy to use
Fast download speed
The PRO version allows you to automatically convert the file when you download it
It's really cheap to upgrade to the PRO version which will bring you an even faster download speed, unlimited downloads, and you can convert to any type of file
Cons:
For now, it is only available for the Android OS on smartphones
How to download audio off YouTube with YTD
Download and install the app – access ytddownloader.com and click on the free download option at the top of the website.
After downloading and installing the software, open it.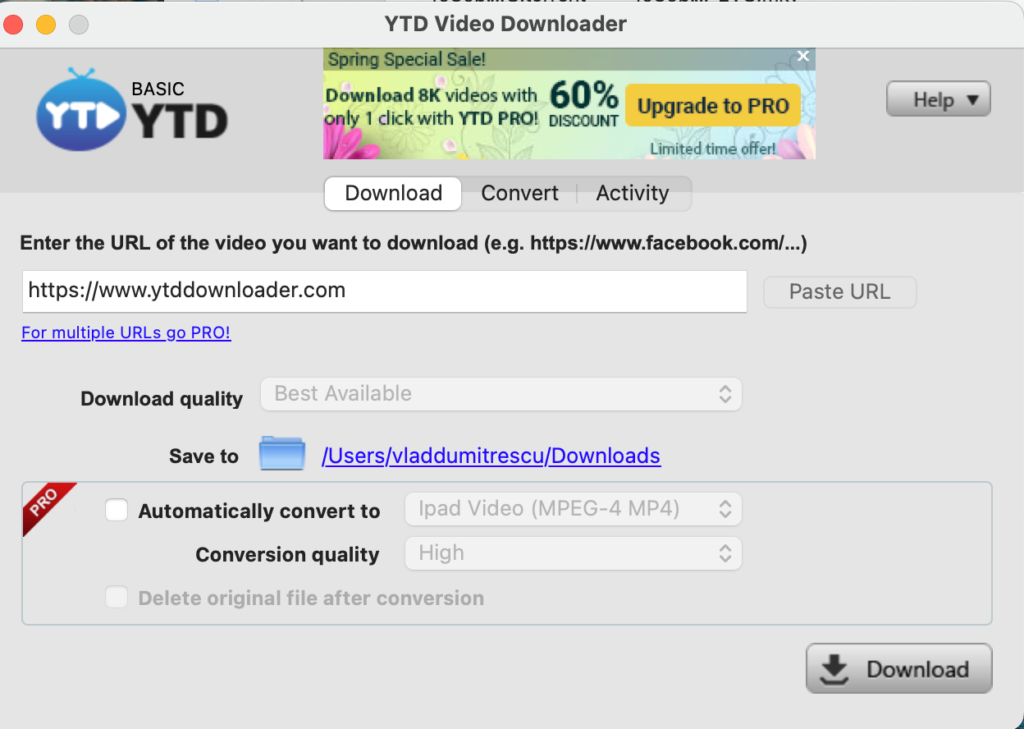 Simply copy and paste the URL of the video you want to download in the box as shown above. You can also download entire playlists in bulk if you choose so, just put the URL from the playlist instead of the one from a single video.
Select the download quality (we recommend sticking with the best available) and in the Save to column, select the folder where you want your file to go.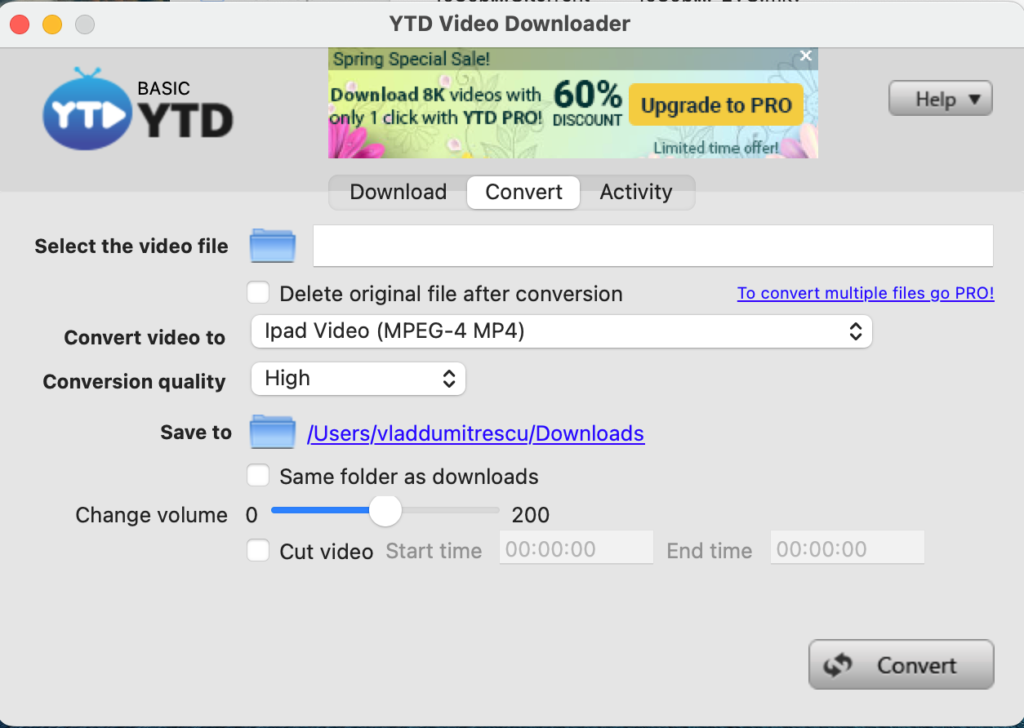 Convert to mp3 or mp4. After you downloaded the file, go to the Convert tab, select the video file you want to convert and then choose the format you want to have it in. In the Conversion quality column, we suggest you always choose High.
Select the folder you want your file to go to.
As a bonus, you can actually cut the file if you're interested in only a part of a song (if you want to get a ringtone, for example).
4K YouTube to MP3
Another option if you want to use a desktop software is 4K YouTube to MP3. It has some similar features to YTD Downloader, but the process is a bit more complicated. However, if you are still looking for ways on how to download music from YouTube, this is still a great option.
Pros:
You can download entire YouTube playlists
All popular websites are supported
Download YouTube channels
It has a built-in player
The download speed is OK
Cons:
A more convoluted download process
It is only available on desktop
The free version only allows for 30 downloads a day and one track at a time
You can only convert the videos to mp3, mp4 or OGG
How to use it
Visit the website, click the Download tab at the top of the page and choose the version you want: Windows, macOS or Ubuntu.
Once you downloaded it, run the installer to setup the software on your computer.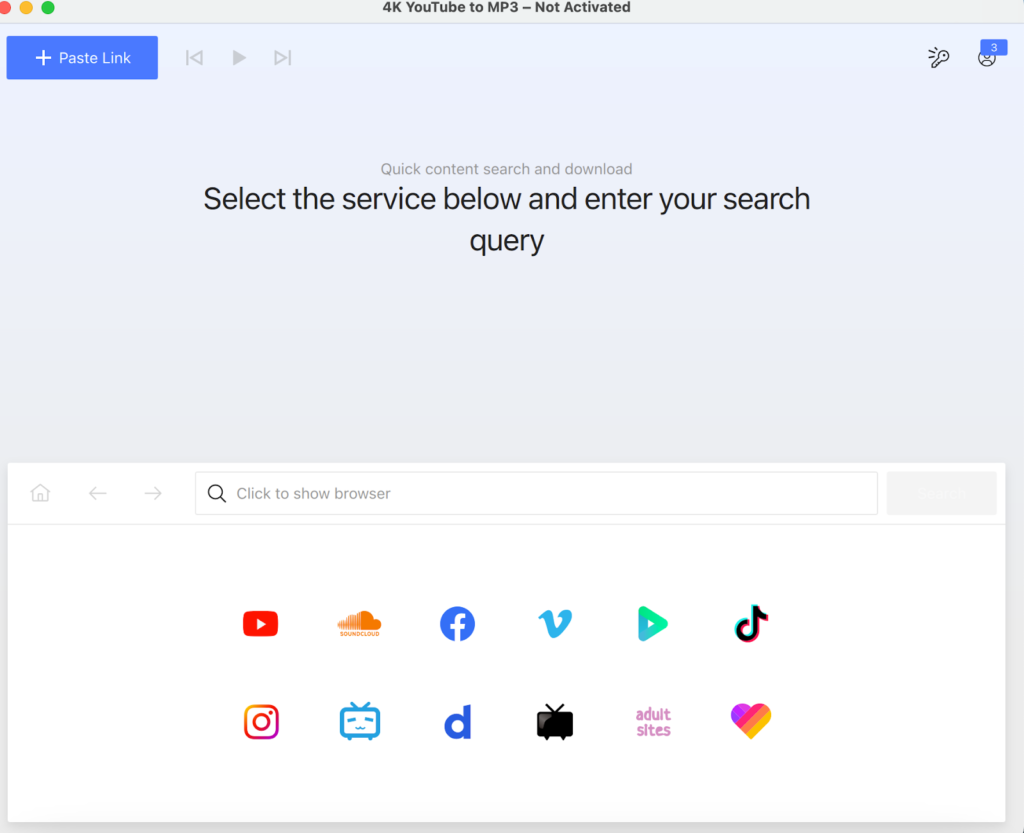 Here is where the process gets a little complicated. You'll notice that it says not activated on the toolbar above. That means that you will have to buy a license for you to use some premium features. That will cost you 15 dollars. You can still use the free version, though.
Next, if you decided to use the free version, simply copy the URL from the video you want converted to audio and click Paste link.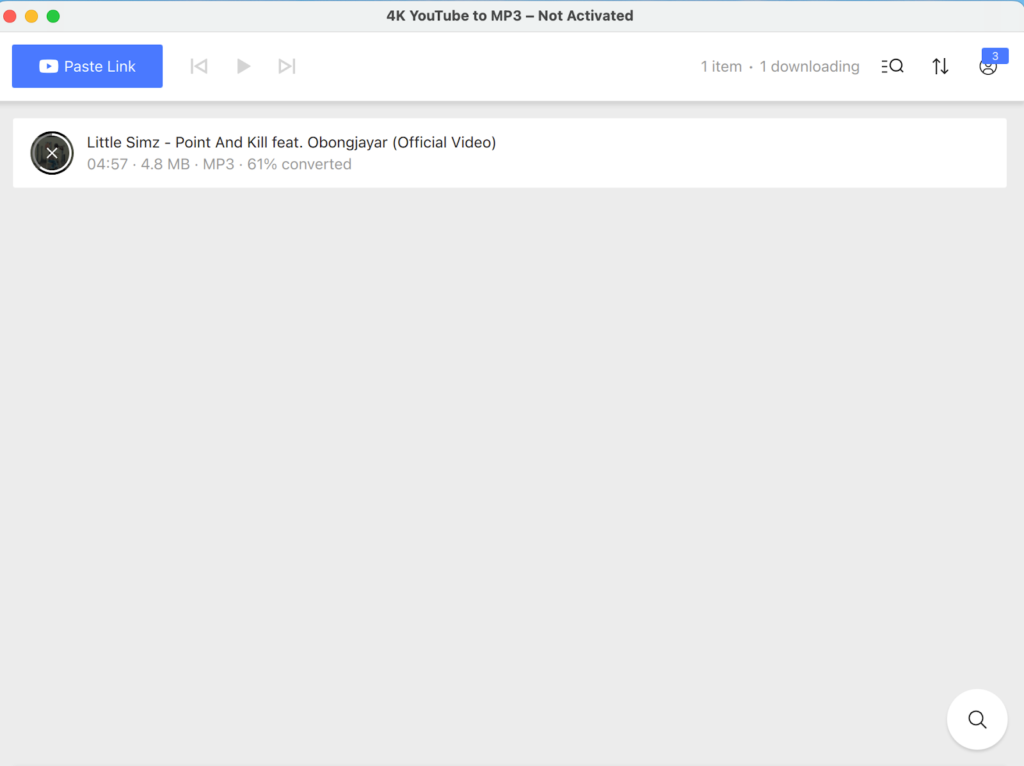 Once the download and conversion is complete, simply click on the folder on the right side, where it says show in folder and there you will find your mp3 file.
Free YouTube to MP3 Converter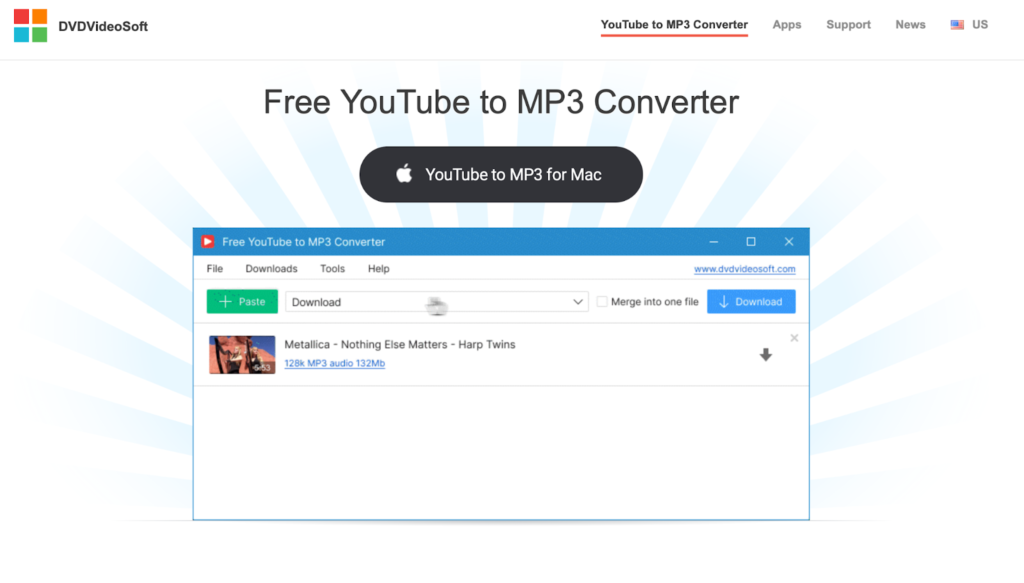 This is another option for those of you who want to have a tool on their PC or Macbook for downloading audio content for YouTube. Free YouTube to MP3 Converter from DVDVideoSoft is free to use and here are its pros and cons.
Pros:
It's free and easy to install
It will automatically convert your file to an MP3 format
You have the option to download an entire channel
Cons:
It has a slow download speed
You can only convert the files into MP3
How to use it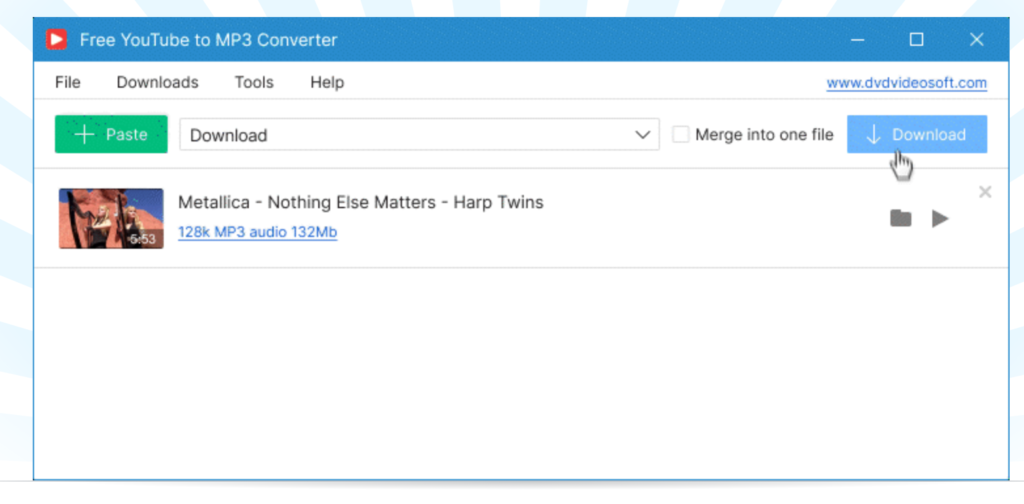 Go to the website of Free YouTube to MP3 Converter and click on the download button. It will automatically detect what operating system you use and give you the best option.
After you installed it, launch the software. Next, simply copy and paste the URL from the video you want to convert. You can do this by copying the link and clicking on the +Paste button.
Once you pressed the +Paste button, the conversion will start. After that, you have to click the blue Download button on the right.
If you have multiple files there, you can click on the blue button to start downloading all of them. If you want to download them individually, simply click on the down arrow on the right.
2. Online video downloaders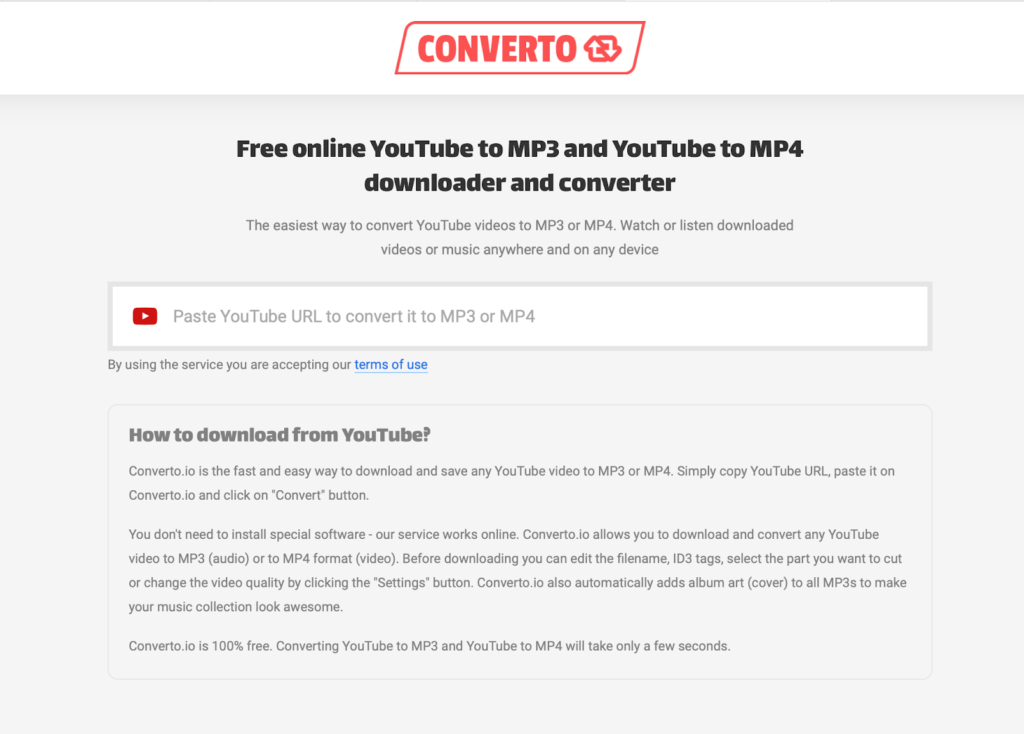 If you are looking for a one time solution and are not particularly in a hurry, then a website that lets you download YouTube videos and convert them to audio files is a good option for you.
Some of the most popular options include:
Pros:
Easy access
No need to download anything on your device
The process is smooth and simple
Cons:
The download speed is slow
Most sites offer only MP3 as the format for downloaded audio content
How to use the websites
Since all the websites operate in a similar and intuitive way, there is one simple process involved.
Access the website.
You will find a box where you can put the URL of the video you want to convert.
Click the Convert/Download option.
After the video is converted to MP3 (in most cases, but some websites offer other formats also), a box will appear where you will the folder you want it downloaded to.
Click Save As.
How to download audio content from YouTube to your phone
Download and install a YouTube audio downloading app
YTD Downloader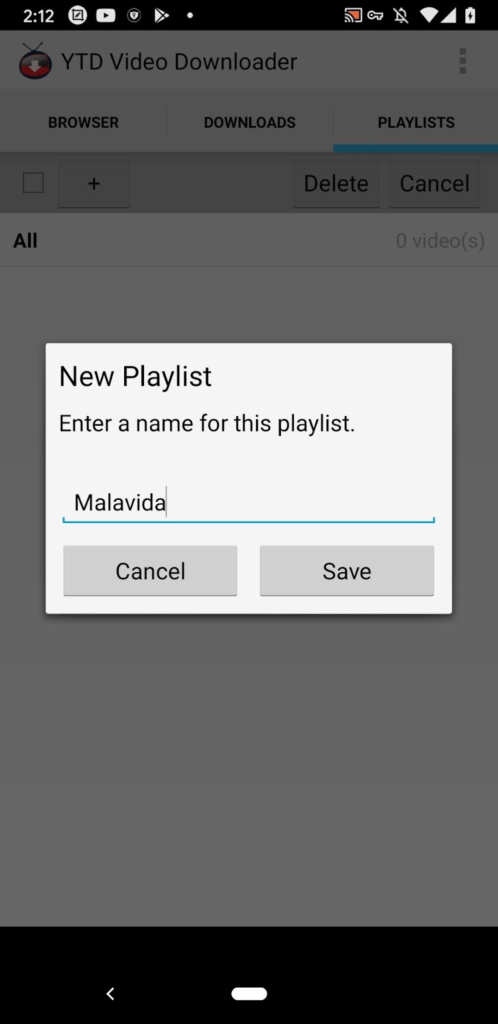 Works with Android
As is the case with the PC version of YTD Downloader, this software is the best you can find when it comes to the convenient, safe and fast download and conversion of YouTube videos.
Pros:
Very fast download speed
Trustworthy sources – no viruses
You can download and convert the audio content from 50+ websites
You can easily convert all kinds of video formats to audio easily
Cons:
Not available for iOS, for now
How to download audio content with YTD Downloader:
Download the APK files from here and install the app.
Simply copy and paste the URL from the video you want to convert in the designated box.
Select download and then select the format you want to convert it to.
YMusic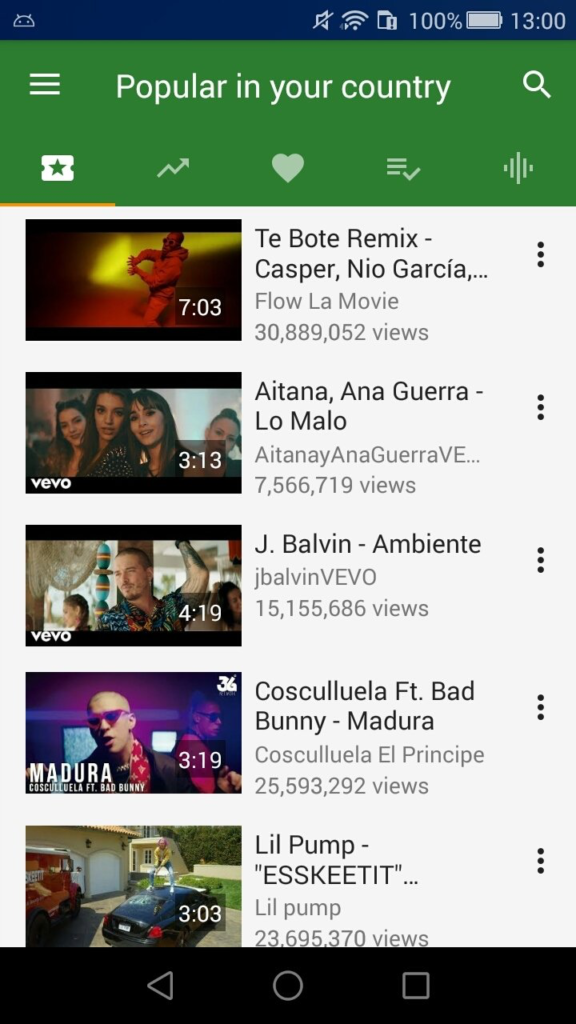 Works with: Android
YMusic is a great app that you can use to convert any YouTube video you want into an MP3 pretty easily.
Pros:
You can also listen to music on YouTube in the background
It's also a media player
Clean interface
Easy to use
Cons:
Only works on Android
Not available on Google Play, so you have to download the APK files
How to use it:
Download the app and install the APK files
On the interface, search for the video you want to download. Use the search online tab.
Tap the video and play it.
Click below on the Download button.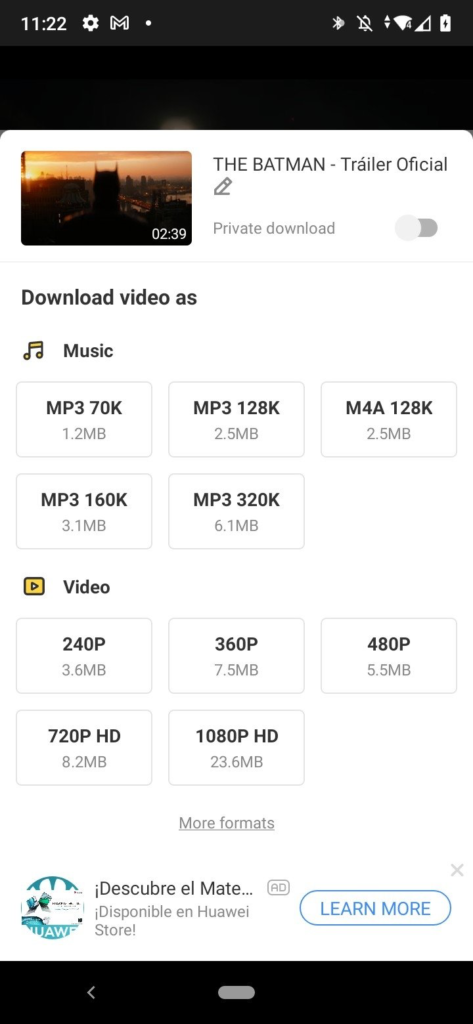 Snaptube
Works with: Android
Snaptube is a wonderfully constructed app that you can find easily in Google Play and use to download audio content from your favorite YouTube videos.
Pros:
Easy to install
You can use it to download from Instagram, Twitter and many other websites
You can download both video and audio
You can find it in Google Play
Cons:
The download speed is far from ideal
You will have to deal with a lot of unnecessary boxes appearing on your screen
How to use it
Download and install the app on your Android phone
Type the name of the video you are looking for in the search bar.
Play it.
Simply hit the Download button from the options.
VidMate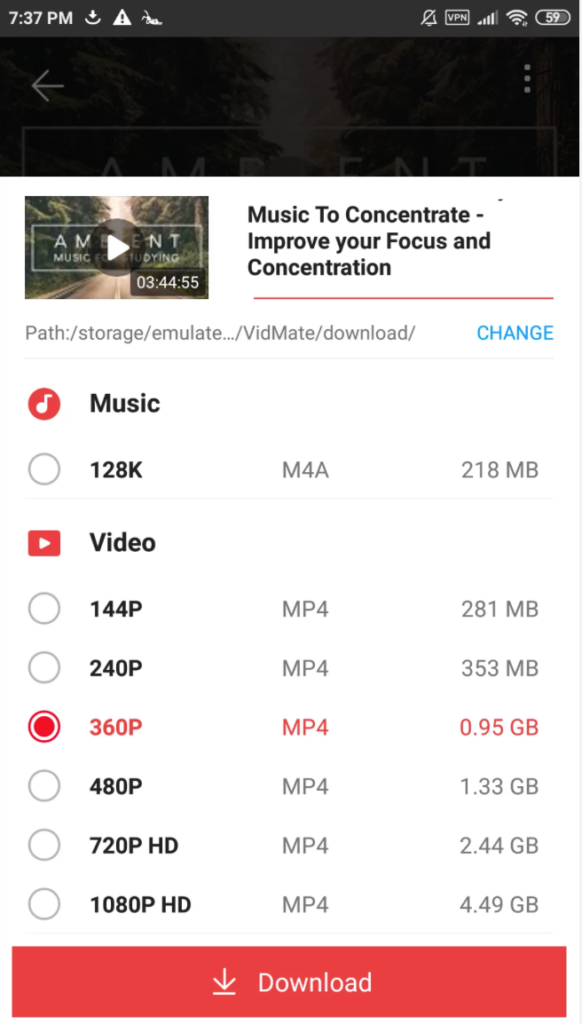 Works with: Android, Windows
This is a great app because you can easily download any audio content you want from YouTube and also you have the option to convert to MP4, not just MP3.
Pros:
You can convert to both MP3 and MP4
Supports downloads from a lot of popular websites
It will protect you from malware
Cons:
You won't find it in Google Play
It can be slow in some moments
How to use it
You will have to download the APK Files from their website, since you won't find the app in Google Play.
After that, launch the app.
Search for any video you want, using the search bar.
Play the video and hit the download button in the right.
How to stay on the legal side while downloading audio content from YouTube
Downloading audio from YouTube can be a legal gray area, depending on the specific content and your intended use. Theoretically speaking, if you download videos or audio content from YouTube for your personal use and don't share that content with others or try to profit from it, you should be fine.
So what does copyright law say?
Well, if the audio content is copyrighted and you do not have permission from the original owner to download or use it, it is illegal to download it. You should know that most of the content on YouTube is protected by copyright laws. It is, however, useful, to always check and see because you may find some free content also.
That free content is called public dominant content. That means that the copyright protection has expired, or the creator has given up his/her rights, and you can legally download the material.
If you are a creator and want to use the content you downloaded to make, for example, a video essay about a movie, that can fall under the fair use doctrine, which says that you can use copyrighted material for purposes such as commentary, criticism, education or news reported. Be careful, though, you can only show tiny bits of video in your content. Above all, know that downloading content for your personal use does not go under the fair use umbrella.
If you read carefully YouTube's Terms of Service (which you should do!), you'll notice that it says that you shouldn't download any audio content unless it is "specifically permitted by the Service" or if you have consent from the creator itself.
If you want to stay on the safe side, either use YouTube Music/YouTube Premium or download content strictly for personal use.
Thinking about how to download music from YouTube easily and for free? Start using YTD Downloader, the software that is trusted by over 10 million users all over the world!
As you can see, there are many options out there if you want to download audio content from YouTube, so you don't have to rely on YouTube Premium to legally and freely get what you need. Whether you're a music lover, a student, a content creator, or a professional, these methods can help you access your favorite audio content offline, giving you the freedom to enjoy it anytime and anywhere.
Among the various tools and methods presented, YTD Downloader stands out as the most reliable and user-friendly option if you are looking for an easy answer for how to download music from YouTube. YTD Downloader is the safest and fastest option here, it's easy to use, lets you legally download both audio and video content from over 5o websites, and you can be assured that you will have good speed. Give YTD Downloader a try and unlock the endless possibilities of YouTube's audio content today!