Watching movies offline is a great alternative to get off the grid. Whether you're a frequent traveler, a cinephile seeking to escape the grip of spotty internet connections, or simply wish to enjoy your favorite films without an Internet connection, it may be useful to know that there are loads of options to watch movies offline.
So, if you're one of those individuals yearning for a way to watch your beloved films without worrying about buffering or data restrictions, you're in the right place.
We recommend you use YTD Downloader, which will help you effortlessly download your preferred movies for offline viewing. But it is always best to have a lot of alternatives to choose from. Enough of this intro, let's dive into the world of offline cinema.
1. YTD Downloader – the best way to watch movies offline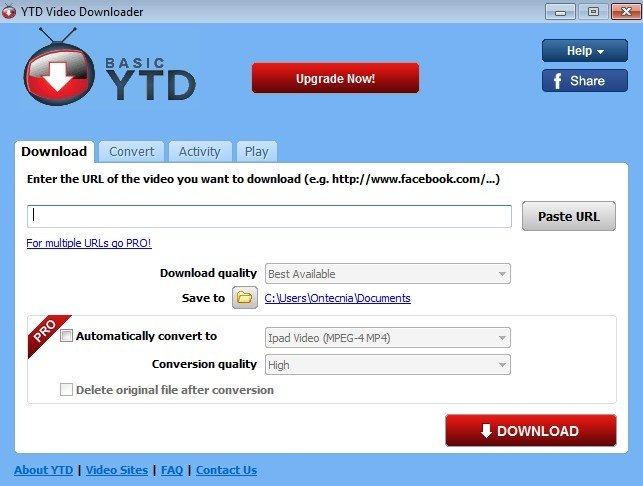 YTD Downloader has been active since 2007, making it a reliable player with 16 years of experience under its belt. What's even more impressive is that it's won the trust of over 10 million users worldwide! And there's a good reason for that. It's hands down the simplest way for anyone to save an online video.
YTD Downloader is a versatile tool designed for downloading videos from a wide range of online platforms, including YouTube, Vimeo, Facebook, and others. With YTD Downloader, you can store these videos on your computer or mobile devices, making them readily available for offline viewing. What's more, you can convert these downloaded videos into your preferred format.
YTD Downloader allows you to copy the web address of the video you want to download, and then you can simply paste this URL into the software. You can select the quality and format in which you want to download the video. This means you can save videos in different resolutions, such as 720p, 1080p, or even 4K, depending on the available options. Just remember to respect copyright and licensing restrictions when downloading and using videos.
YTD Downloader pros
You can use it with YouTube, Facebook, Vimeo, and a whopping 60+ other content websites!
It can download whole playlists or channels for you.
You can change videos into MP3 and various other formats.
The interface is super easy to use.
And here's the best part – there's a free version available!
2. YouTube Premium – you can watch movies offline, but only in the app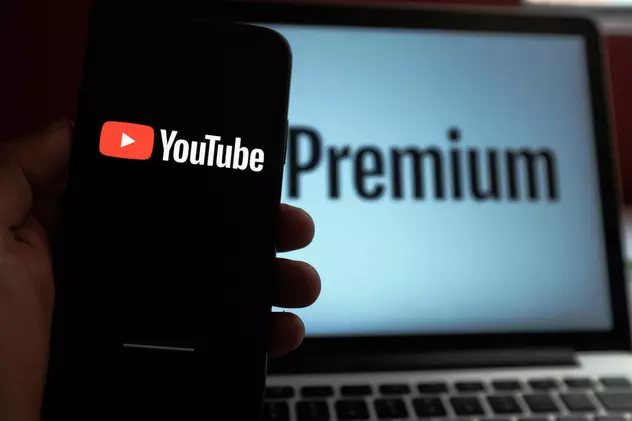 There are a lot of free public domain movies on YouTube and you can have them in your YouTube app for offline viewing using your YouTube Premium account.
All you need to do is use your YouTube Premium account, and you'll get the option to save a YouTube video for offline viewing right in the app.
Simply click on the Download button, give it a moment to finish downloading, and then you're all set to watch it, even without an internet connection. Easy as that!
YouTube Premium Pros
Ad-Free Viewing: With YouTube Premium, you won't have to deal with those pesky ads that interrupt your movie-watching experience. This means no more annoying commercials before or during your movie.
Offline Downloads: The standout feature of YouTube Premium is the ability to download movies and videos to your device. You can save them for offline viewing, which is perfect for times when you don't have an internet connection, like when you're traveling or in areas with limited data access.
Background Play: Premium subscribers can play videos in the background while using other apps or with your phone's screen turned off. This is great for multitasking and conserving battery life.
YouTube Premium Cons
Cost: One of the main drawbacks is that YouTube Premium is a paid subscription service. You'll need to pay a monthly fee, and this might not be ideal for those who prefer free options or have a tight budget.
Limited Movie Selection: YouTube may not have as extensive a library of movies as dedicated streaming services like Netflix or Amazon Prime. So, you might not find all the movies you want to watch.
Content Availability: YouTube Premium's offline feature is primarily meant for YouTube videos. You won't be able to download movies from other streaming services or websites using this service.
The most popular streaming platform around, Netflix really needs no introduction. With its vast library of movies, tv shows and documentaries and its long history, it is one of the best alternatives out there when it comes to movie watching. There are few platforms that offer such a vast array of films as Netflix does and you can bet you will find there all the box office hits but also some lovely hidden gems.
Also, and perhaps most importantly, if you're traveling or don't have a stable internet connection, you can download some content and watch it offline, which is super handy.
Netflix Pros
Custom Watchlist: You can curate your very own watchlist with movies and shows you want to see. Then, download them and have a ready-made queue for your entertainment needs.
Kid-Friendly: If you have little ones, Netflix is great for keeping them entertained during long trips. Download their favorite cartoons or family movies and keep the little rascals happy.
Exclusive Originals: Netflix has some awesome original content you won't find anywhere else. Download their exclusive shows and movies to catch up on the latest binge-worthy series.
Netflix Cons
Limited Selection: Not everything on Netflix is available for download. Some movies and shows have restrictions, so you might not find your all-time favorites ready for offline viewing.
Storage Space Struggles: Downloaded movies can take up a good chunk of your device's storage. If you're not careful, you might run out of space for your apps and photos.
Download Expiry: You can't keep downloaded movies forever. Some titles have an expiry date, so you need to periodically reconnect to the internet to renew them. It's like a movie library that occasionally asks you to check out the books again.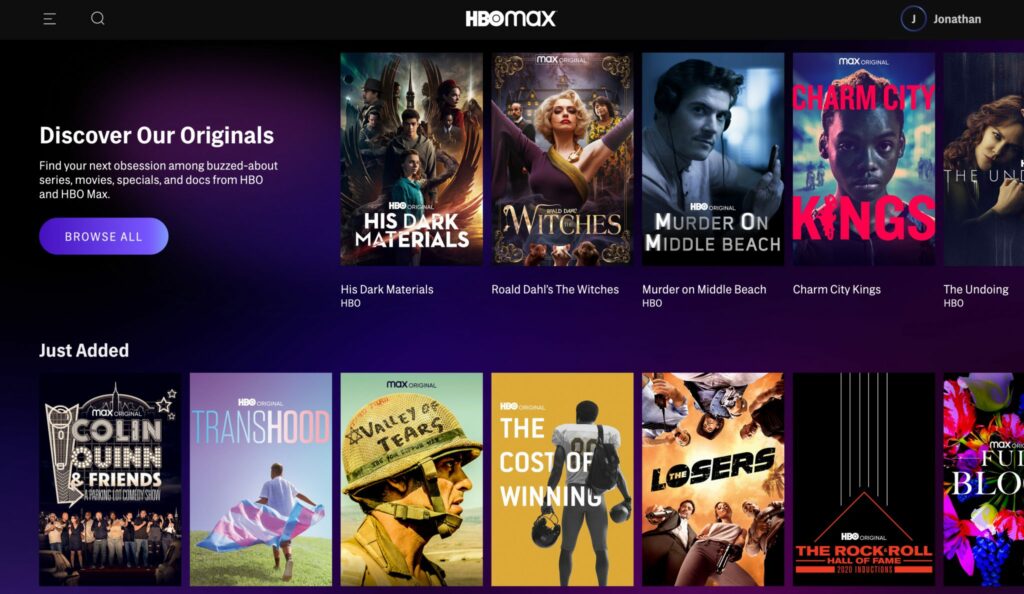 HBO Max is your home of top-tier movies and TV shows. You'll find all-time classics, the latest blockbusters, and a bunch of hidden gems waiting for you. It's a film lover's paradise and also full of wonderful HBO originals, one of the best out there when it comes to TV. After all, it's not TV, it's HBO!
If you've got kids, HBO Max has a range of family-friendly content. Download their favorite cartoons or movies to keep the little ones entertained wherever you go.
MAX Pros
High-Quality Viewing: The video and audio quality on HBO Max is top-notch. So even when you're watching on a smaller screen, it's like having a mini movie theater experience.
Multiple User Profiles: You can set up different profiles under one account, so your watchlist doesn't get mixed up with your partner's or your kids'. Everyone gets their own space.
Free Trial: If you're new to HBO Max, they usually offer a free trial so you can explore and see if it's your cup of tea.
MAX Cons
Downloads Not on All Devices: While most smartphones and tablets are good to go, not all smart TVs and streaming devices support offline downloads. So, your bigger screen might miss out on the action.
Not Ideal for Long Trips: If you're planning an epic journey through the wilderness, you might run out of downloaded content. Your device can only store so much.
No Fresh Releases: If you're craving the very latest movie releases, HBO Max might not be your first stop. It can take a while for new movies to arrive on the platform.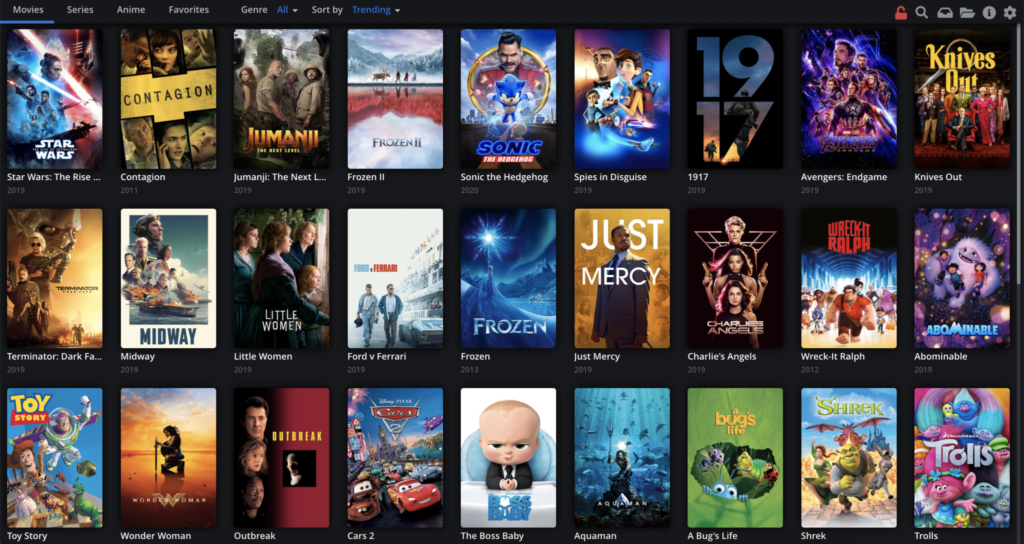 Popcorn Time is a movie lover's dream, especially if you want to watch movies offline. It's like having your own personal movie theater right on your computer or device. What makes it stand out is that it offers a huge selection of movies and TV shows that you can stream and even download for offline watching. It's a bit like Netflix but with an added twist – it's totally free!
When you use Popcorn Time, you can easily find the movies you want, pick your favorite quality, and then either watch them online or download them to your device. So, even if you're not connected to the internet, you've got your movies ready to go.
Popcorn Time Pros
Massive Selection: It's like a treasure trove of movies and TV shows, so you'll find plenty of options for offline viewing.
High Quality: You can pick the quality you prefer, so you get the best picture and sound.
User-Friendly: It's designed to be super easy to use, even for those who aren't tech-savvy.
Popcorn Time cons
Safety Concerns: Downloading movies from Popcorn Time can sometimes come with security and malware risks, so it's crucial to be cautious and use antivirus software.
Dependent on the Internet: You'll need an internet connection to find and start downloading movies initially, even if you plan to watch them offline later.
Not Available on App Stores: It's not found in official app stores, so you'll have to download it from the Popcorn Time website, which can carry risks.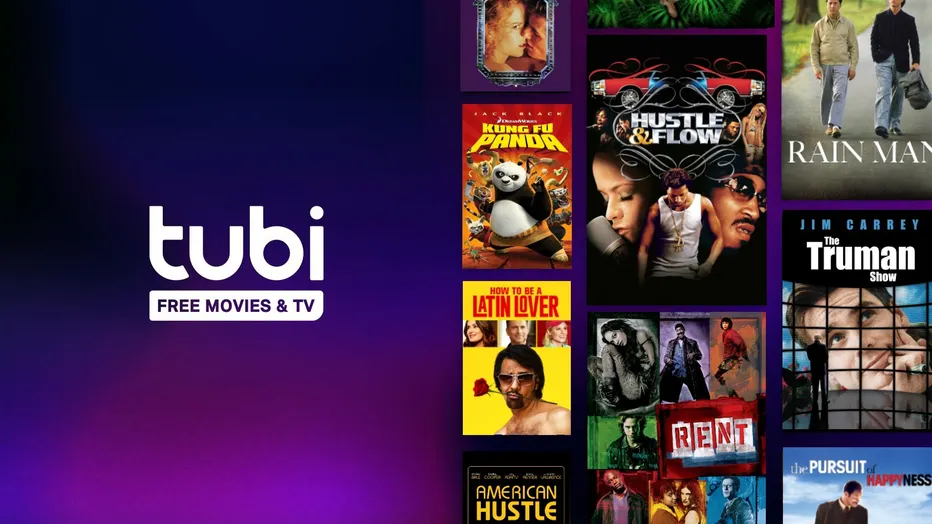 Tubi is like your free ticket to a world of movies and TV shows, right on your device! It's a great streaming platform that offers a wide variety of content, from classic movies to popular TV series, and it's all completely free. You can watch movies offline from your computer, phone, or smart TV – it's super convenient.
What's cool about Tubi is that you don't need to sign up for a subscription or even enter your credit card details. Just download the app, start watching, and you're good to go. You can even create your own personal watchlist, so you never forget those movies and shows you've been meaning to check out. So if you're looking for a no-fuss, cost-free way to watch great content, Tubi is your go-to destination!
Tubi pros
No Strings Attached: There are no sneaky sign-up requirements or credit card hassles. Just download the app, and you're all set.
Varied Selection: Tubi offers a diverse library of content, from classics to current hits. You'll have plenty of options for offline entertainment.
On-the-Go Entertainment: You can download your favorites and enjoy them without needing an internet connection, making it perfect for long trips or when you're on the move.
Tubi cons
Limited Offline Viewing: Not all the content on Tubi is available for offline download. You'll need to check if the specific movie or TV show you want is downloadable.
Ads: Like many free streaming services, Tubi supports itself with ads. While you can download content for offline viewing, you may still see ads when you watch, depending on the title.
Availability by Region: The library of available content may vary depending on your location, so you might not have access to the same movies and shows as others.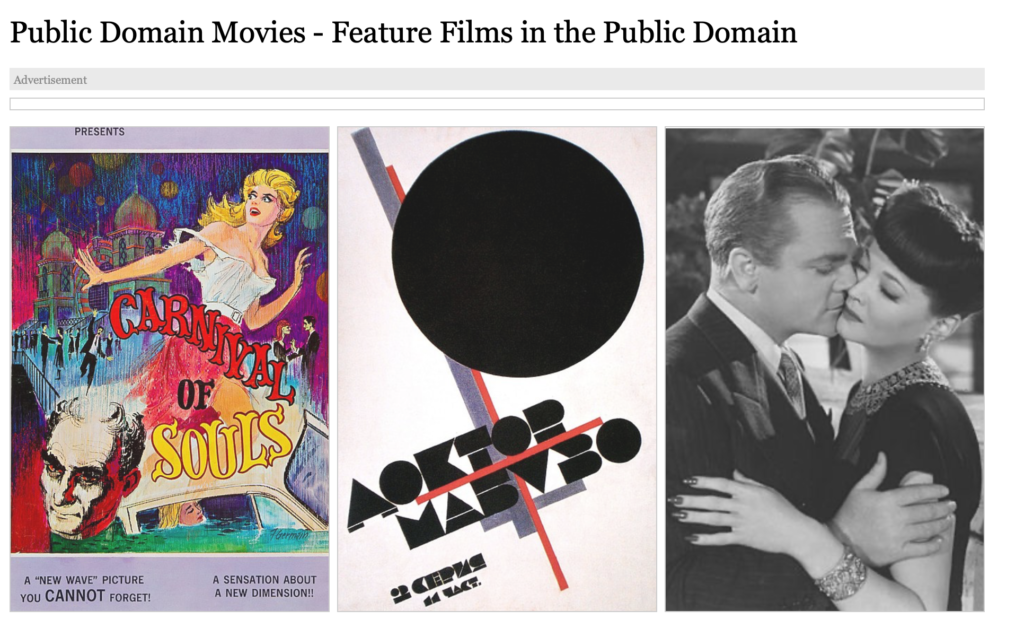 If you are looking for ideas on how to download movies to watch offline, look no further. PublicDomainMovies.net is like a treasure chest of timeless classic movies that you can enjoy for free. These are movies that are no longer protected by copyright, which means they're in the public domain and available to everyone. It's a bit like a digital library filled with cinematic gems from the past.
Simply pick a movie, press play, and start watching. Whether you're into vintage Hollywood classics or old-school silent films, you're likely to find something fascinating and free to watch on PublicDomainMovies.net. It's a cinephile's dream, and it won't cost you a cent!
PublicDomainMovies.net pros
Free Classics: You get access to a vast collection of classic movies without any cost. These movies are no longer under copyright protection, so you can enjoy them freely.
Legal and Safe: Since all the movies are in the public domain, you don't have to worry about copyright issues or legal concerns. It's a safe and legitimate source of classic films.
No Subscription: There's no need to sign up, create an account, or subscribe to anything. You can start downloading and watching movies right away.
PublicDomainMovies.net cons
Limited Selection: Since it offers only movies in the public domain, the selection might not be as vast or up-to-date as other streaming platforms.
Quality Variability: The quality of these classic films may not be as high as modern, remastered versions, so don't expect high-definition visuals and sound.
Genre and Preferences: The content is mostly classic and older films. If you're into recent releases or specific genres, you might not find what you're looking for.
8. Amazon Prime Video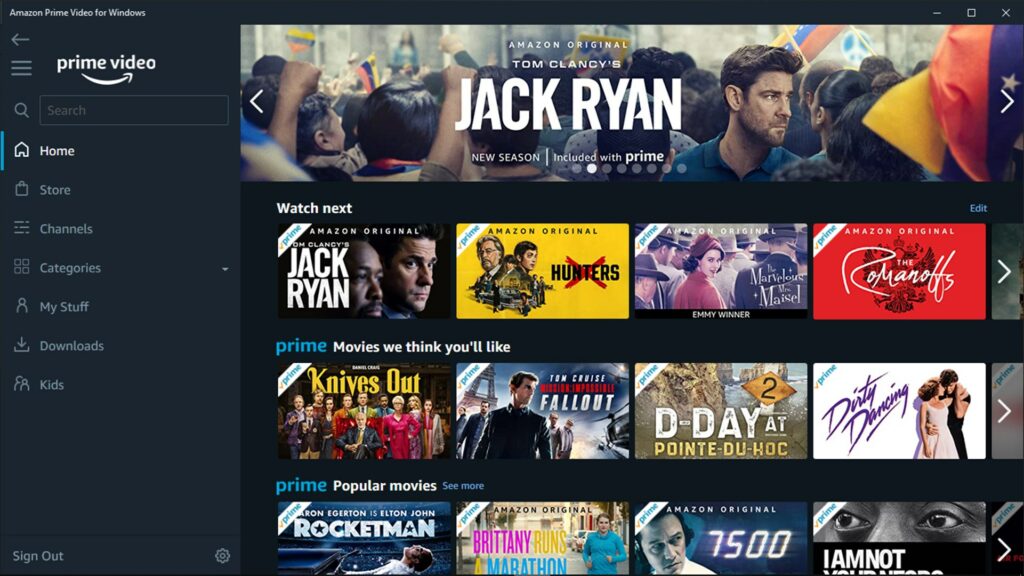 Amazon Prime Video is a streaming service offered by Amazon, and it's packed with a massive library of content. From blockbuster movies to award-winning TV series, they've got it all.
The best part is that if you're an Amazon Prime member, you already have access to Prime Video at no extra cost. You can watch it on your computer, smart TV, phone, or tablet, and even download your favorite shows and movies to watch offline.
Amazon Prime Pros
Huge Content Library: It offers an extensive library of movies and TV shows, including original content, so you have a wide variety to choose from.
Free with Prime: If you're already an Amazon Prime member, you get Prime Video at no extra cost, making it a great value.
Offline Downloads: You can easily download movies and TV episodes to your device for offline viewing, which is perfect for trips, commutes, or when you're in areas with poor internet connectivity.
Amazon Prime Cons
Content Rotates: Not all movies or TV shows are available for offline download. Some titles may rotate in and out of the available list.
Storage Space: Downloaded content takes up storage space on your device, so you'll need to manage your downloads to avoid running out of space.
Geographical Restrictions: Some content might not be available for download in certain regions due to licensing restrictions.
9. Popcornflix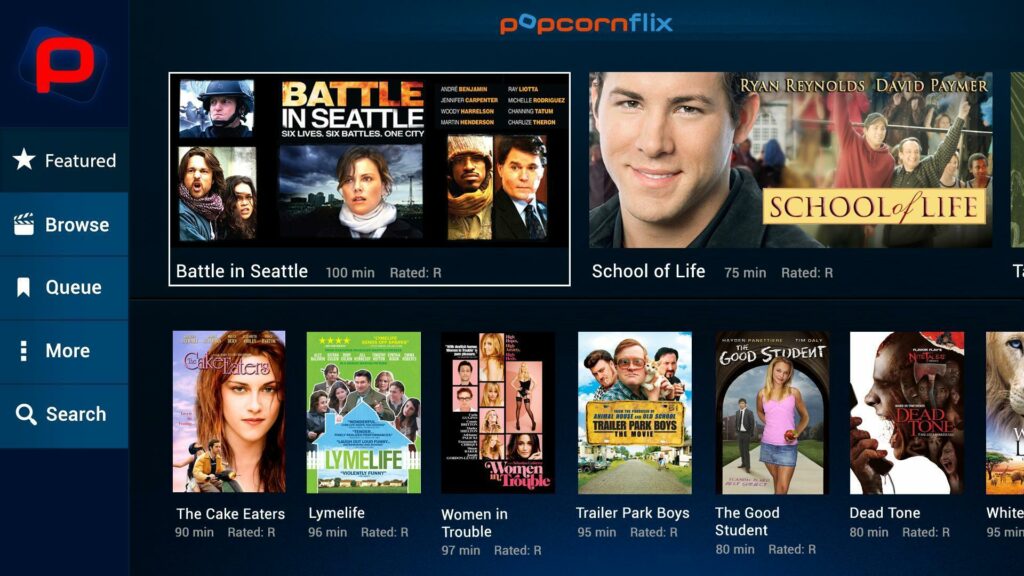 This is a streaming platform that offers a bunch of movies and TV shows, and the best part is that it's absolutely free. No subscriptions, no hidden fees – just instant access to a library of entertaining content.
You can watch it on your computer, mobile device, or even some smart TVs. Popcornflix features various genres, from action-packed adventures to heartwarming dramas, and it's regularly updated with new additions.
Popcornflix Pros
Free to Use: The best part is that it's completely free, with no subscription fees or hidden costs. You can enjoy movies without opening your wallet.
No Account Needed: You don't have to sign up or create an account. It's a hassle-free way to access a wide variety of films.
Large Library: Popcornflix offers a substantial collection of movies and TV shows in various genres, so you'll have plenty to choose from.
Popcornflix Cons
Ad-Supported: To keep it free, Popcornflix is ad-supported, so you might encounter ads during your movie-watching experience.
Internet Required for Initial Download: You'll need an internet connection to download the movies initially, even if you plan to watch them offline later.
Quality Varies: The quality of the downloaded movies may not be as high as some premium streaming services, so don't expect ultra-HD.
10. Disney+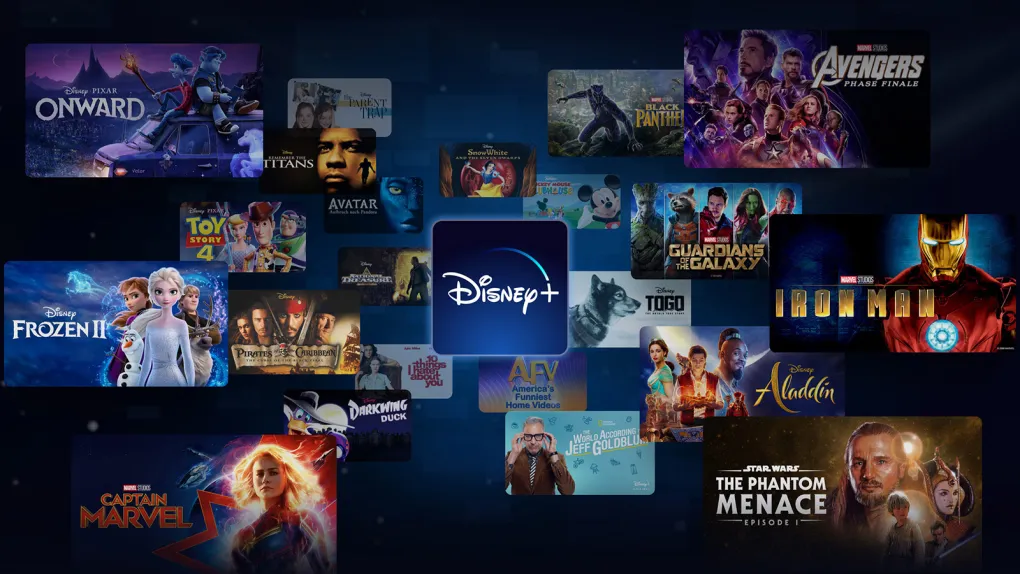 This is a streaming service where you can access an incredible array of Disney, Pixar, Marvel, Star Wars, and National Geographic content, all in one place. From classic animated movies to the latest Marvel superheroes and even exclusive originals, they got you covered.
Disney+ Pros
Family-Friendly: Disney+ is designed to be family-friendly, so you can trust that the content is suitable for all age groups.
Cross-Platform Access: It works on various devices, from smart TVs to smartphones, allowing you to enjoy Disney magic wherever you are.
Personal Profiles: You can create multiple profiles for family members, each with its own watchlist and preferences.
Disney+ Cons
​​Subscription Cost: Disney+ isn't free; you need to pay for a monthly or yearly subscription, which might not be ideal for budget-conscious viewers.
Content Rotation: Not all Disney, Pixar, Marvel, or Star Wars movies are available at all times. Some titles rotate in and out of the library due to licensing agreements.
Geographical Restrictions: The available content can vary by region, and not all titles are accessible in every country.
How to watch movies offline – discover the best alternatives
If you want to watch movies offline, the list from above should provide you with the best options.
Whenever you want to download movies to watch offline for free, you can easily come back to this article. We've explored some fantastic options to keep your movie nights rolling, even without an internet connection.
If you're hunting for the ultimate convenience and a smooth experience, YTD Downloader has consistently proven to be a crowd-pleaser. With its long-standing reputation and user-friendly design, it's no wonder many movie lovers worldwide have made it their go-to choice for downloading and enjoying movies offline.