YouTube is the world's most famous video platform, and it's no wonder why. You only need a decent internet connection, and the world is yours. Sometimes you don't even need to be online. That's because YouTube has made it possible to download their content within their paid version of the app. So if you're wondering how to download YouTube videos, here's answer. However, it will limit you to watch the videos in the app.
But while this quick way of saving the videos is quite convenient, it doesn't assure permanent access to the videos – you only have access to that content while you pay for the app. On top of that, Google owns YouTube and if they decide a video violates their guidelines, it's gone forever.
Sometimes, the creator will take their own videos down, and even if it's downloaded inside the YouTube Premium app, you will lose access to it.
So, the best option when it comes to downloading YouTube videos is to save them on your computer or other devices (laptop or PC). That's where you have to use a video downloader – there are plenty out there, and we'll help you sort through them.
We'll recommend methods that are safe to use, with bonus points if they can download entire YouTube playlists, and if they can convert videos to other formats, you can easily make yourself a playlist by downloading your favorite songs from YouTube in an audio format.
Extra points if they work with other video platforms as well (like Facebook, TikTok or Vimeo) – like YTD Downloader can!So let's list all the methods you can use to download a YouTube video, rank them from easiest to most difficult, and go through each method's pros and cons:
How to download YouTube videos – YouTube Premium
Let's assume you want to keep things super simple and just stick with the app, although you don't really own the content.
Just subscribe to YouTube Premium, and you will have the possibility to save a YouTube video for watching later, in the app, without internet access.
Click on the Download button, wait until the download is complete, and then you can watch it.
This one only works if you already have a Premium account, which also has other advantages. Most of all, you can watch YouTube videos without ads and let them play in the background on your phone.
But paying almost $12 a month to download a couple of videos on the app is not worth it. However, if you already have a Premium account, you can download a YouTube video quickly, but only in the app.
That being said, here is what you need to do:
Open the YouTube app or YouTube in a browser.
When you sign in to your account, if you go to the three-dot menu on the right of the video title and click on it, a dropdown menu will appear.
From there, select Download.
To watch the video you downloaded later, you can go about it in the following ways:
If you're on a browser, you will find the section Downloads in the menu on the left side of the site. Click it, and you will see all the videos that you have downloaded.
If you are using the mobile app, go to the Library section at the bottom of your screen, and there you will see Downloads.
So the only pro here is that if you want to save a YouTube video, it is an easy process, but it will cost you, and you can only access your videos in the YouTube app, and there's no guarantee that the videos will remain available in the app.
If you're looking for a way to download a YouTube video to your computer or phone, the fact that you can only download YouTube videos to the Youtube app with a Premium account can be very limiting. With that being said, there are other options that you can consider.
How to download YouTube videos – use YTD Downloader (video downloader)
This is one of the easiest ways to download a YouTube video. The tool:
Works with YouTube, Facebook, and Vimeo and 60 more content websites!
Downloads entire playlists or channels
Outputs any video to MP3 and many more formats
Has a very user-friendly interface
Has a free version!
Undoubtedly, the smoothest way to download a YouTube video is via desktop software, and the best one out there is one of the veterans, YTD Downloader.
YTD Downloader has been active since 2007. That's a full 16 years by now and the tool is trusted by over 10 mil users all over the world! And it's no wonder, as it is the most convenient way for everyone to save a YouTube video.
As you will see, the entire process is easy, fast, and efficient.
You need to access https://www.ytddownloader.com/, click the big green Free Download button, download the software, and install it. It will take you under a minute, and you will only need to do this step the first time you use it.
Once YTD Downloader is installed on your PC (it works without problems on Windows, macOS, or Linux), you will need to open it and enter the URL of the video you want to download in the box (as shown above).
Then select the quality (we recommend sticking with the best available), select the destination folder, and simply hit the Download button below.
Another significant advantage to YTD Downloader is its premium subscription model. The price is meager – you can get a full year for as little as ~ $10 as there are constantly excellent offers. With a paid version you will be able to:
download videos and playlists from over 60 websites
convert videos to iPhone, iPad, MP4, WMV, MP3,
have faster download speed
ad-free experience
and the capacity to download multiple videos simultaneously!
So, if you're asking yourself how to download a YouTube video to your computer, YTD Downloader is most likely the best answer.
How to download YouTube videos – use Desktop software
Moderate difficulty.
Now that we established that YTD Downloader is the fastest and easiest way to download a YouTube video, maybe you're wondering why you would need other options. That's a good question, but everybody is different and has different needs. So, just in case you want to explore some more methods, you can read on.
Some desktop software tools examples include:
VLC Media Player
4K Video Downloader (Desktop version)
JDownloader
Freemake Video Downloader
Internet Download Manager (IDM)
Using VLC Media Player to save YouTube videos
VLC Media Player is probably the most popular software used worldwide when playing videos on a personal computer. It is easy, supports all video formats, and lets you find subtitles online. So you can see why the popularity.
However, few people know they can use it to download a YouTube video. That's because if you do that, you must go through a long and challenging process. We will take you through it step by step:
Install VLC Media Player if you haven't already.
First, open VLC, go to the Media menu above, click on Open Network Stream, and paste the video URL.
Hit play, and then, while the video is rolling in the background, go to Tools and Codec Information.
At the bottom, you will find a box with the title Source. Copy the URL that you will find there. Go to your browser, put that URL in the address bar above, and play the video.
Click the dot menu in the low right corner to find a download option (that is for Chrome and Edge, for other browsers, it may say Save Video As). That's it.
We know – it was long and painful. For a 10x more straightforward process, you can check out YTD Downloader, but VLC is another accessible option.
The pros are that this is free software, easy to download, and compatible with all systems, but the big con is the complicated process.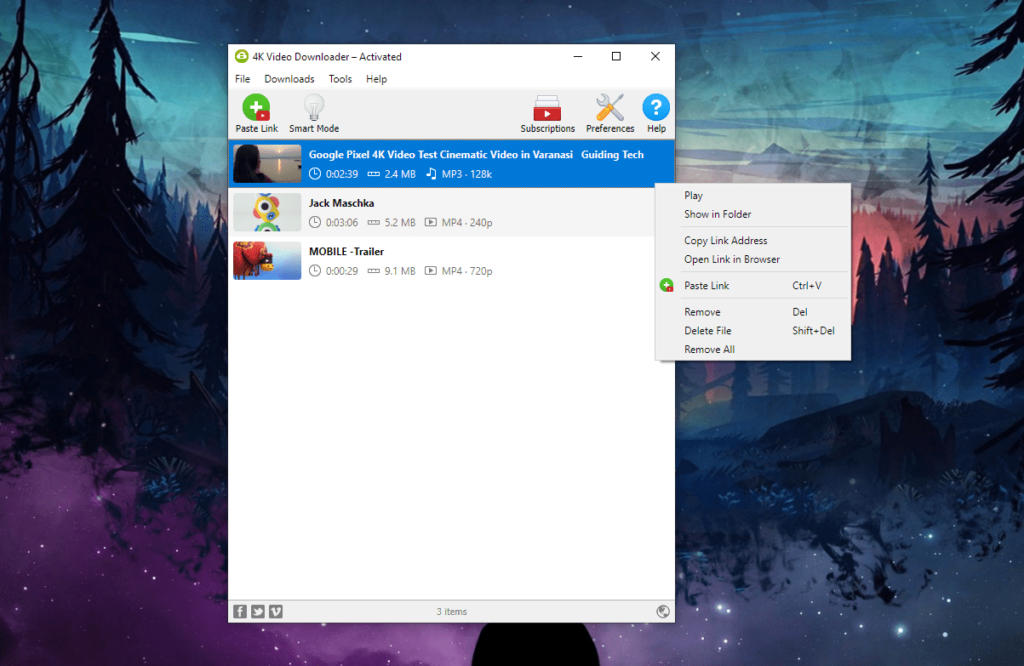 4K Video Downloader
Works with YouTube, Facebook, and Vimeo
Downloads playlists or channels with paid version
Output to MP3
Interface is User-friendly
Another desktop software that can be useful if you're wondering how to download YouTube videos is 4K Video Downloader.
The big pro for 4KVD is that it is pretty easy to use and download, and the website is clean, steering clear of the annoying pop-up ads that seem to be everywhere nowadays.
Here's how to use 4K Video Downloader to save videos:
Download and install 4K Video Downloader on your computer.
Launch the application.
Copy the YouTube URL, and paste it into the box that says Paste Link with a big plus sign.
Choose the desired format and quality.
Hit"Download" and wait for the download to finish.
That's pretty much it. The downside is that it is limited only to the big players out there, such as YouTube or Facebook, as opposed to YTD Downloader, which covers almost any platform under the sun.
Another con is that you are limited to 30 downloads a day, so if you're looking to download some tunes for a more extended playlist, you will find it annoying.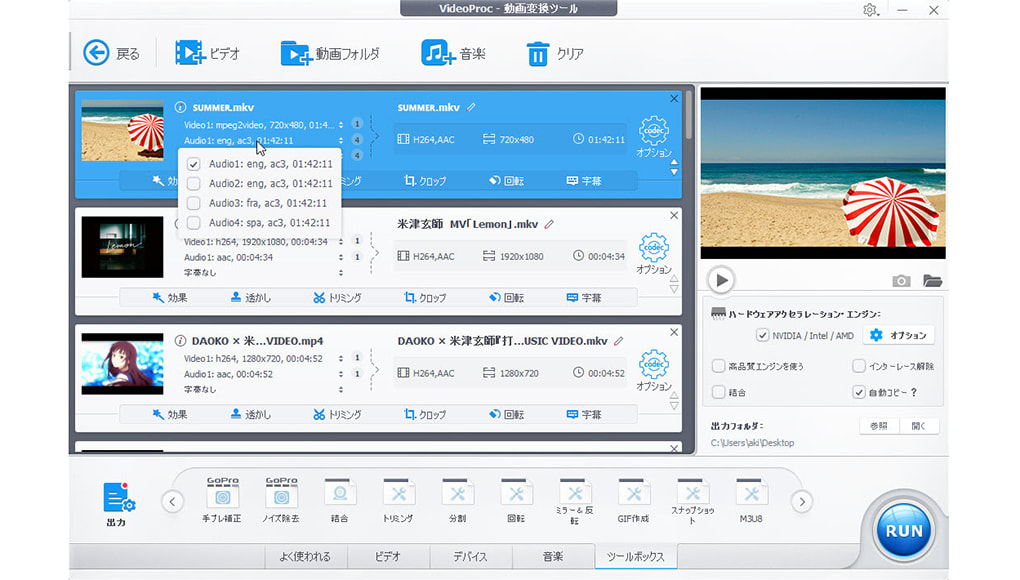 VideoProc Converter
VideoProc Converter is another good option, but the elephant in the room when it comes to it is that its free version is pretty limited. You can only download videos shorter than five minutes, and from only ten sites.
Otherwise, you must pay for a full premium subscription for at least a year to download a YouTube video of over five minutes from over 100 websites. If you are on a tight budget or don't want to invest money in downloading YouTube videos, this one is not for you!
The upside here is that you can also edit and add effects to the videos, so it could be helpful if you are in that kind of work or are passionate about video editing – but our guess is that if you're a content creator, you might have these needs already covered by more professional tools.
It also provides 4K download options, so it's a safe bet if you want to go all in on the video quality downloaded.
To use it:
Download the software from their website, install it, and open it.
Go to the Downloader menu and select Add Video.
Put the URL in the box, and click Analyze.
Then choose the quality you want and click Download Selected Videos.
5K Player
The 5K Player is another tool to save a YouTube video. It's free to use and has no viruses or any plug-in you will need to use. On the other hand, it does require you to register. You must provide your name and email if you want to use it so that you can expect a lot of spam in your inbox. However, it gives you access to about 300+ websites you can download.
When you use it, you must put the URL for the YouTube video you want to download in the box under the Paste URL & Analyze button. Click the gear button after that, then the Show All, and scroll for more options if you want to download a 4K video. Another down here is that the download process is a slow one, so expect to lose some time downloading videos.
So what you have here is a complicated and slow process, probably not the best option for people who want to download YouTube videos fast.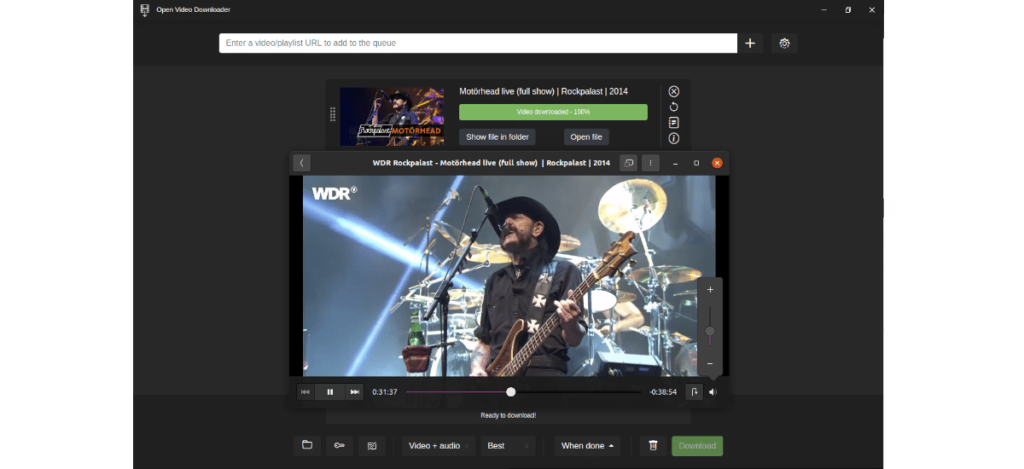 Open Video Downloader
Open Video Downloader, which you can get from here, is free to use and is open-source software that will let you download YouTube videos. You can use it on both Windows and macOS.
Click the GET/Download button, download it on your computer, and then open the software. You will see a pretty minimalist and easy-to-use design. Just paste the URL of the YouTube video you want to download in the address bar at the top of the window. Then click the + button, and select the quality, video resolution, and frame rate. Finally, click the Download button.
Here too, you will find the download speed kind of disappointing, especially when compared with the speed offered by YTD Downloader – and the process is a bit more complicated, as you could already see from the list of steps.
How to download YouTube videos – Using Online video downloader websites
If you are thinking about how to download YouTube videos, you will find out fast that there are options where you can do this online. A lot of websites, like savefrom.net or SSYouTube.com, offer this possibility. You can save a YouTube video just by putting the URL in the box on the website—no need to download any software.
However, there are some crucial downsides here:
Foremost, all websites have tricky bypassing pop-ups and ads. Anywhere you click on the site, there is a high probability that it will redirect you to another website because it is a hidden ad there (they need, at the end of the day, to make money off your visits). Also, they are unsafe and can have dangerous malware that you may download if you are not careful – we recommend you stay out of trouble and avoid these methods.
So while it may seem convenient, it's probably best to stick to classic desktop software like YTD Downloader, where there aren't any risks, and the process is easy, fast, and smooth.
Other online video downloader websites:
SaveFrom.net
ClipConverter.cc
Y2Mate.com
Saving YouTube videos with Browser Extensions
Aside from desktop software and websites, you can also install a browser extension to download a YouTube video. An important note: most extensions will not work with Google Chrome. Alphabet owns the browser, which also owns YouTube, so naturally, they won't allow extensions to let you download YouTube videos.
Some good options here are:
Flash Video Downloader
Internet Download Manager (IDM) browser integration
Ant Video Downloader
These options:
Work with YouTube, Facebook, and Vimeo
Download playlists or channels with paid version
Can output to MP3, with companion software
Have a decent interface
How to use YouTube Video Downloader:
Install the Video DownloadHelper extension on your browser.
Go to the video page you want to download.
Click the Video DownloadHelper icon in your browser toolbar.
Choose the desired format and quality.
Click "Download" and wait for the download to finish.
With Video DownloadHelper, the icon for this extension will light up when you are on a website that it can download videos from (like YouTube).
Using Command-line tools to download YouTube videos
This is the most difficult option.
Example tools include youtube-dl and yt-dlp (a fork of youtube-dl with additional features). These tools:
Work with YouTube, Facebook, and Vimeo
Download playlists or channels
Output to MP3, with companion software (e.g., FFmpeg)
Have a graphical interface
How to use youtube-dl:
Download and install youtube-dl and FFmpeg on your computer.
Open the command prompt or terminal.
Use the following command to download a video: youtube-dl
To download a playlist or channel, use: youtube-dl -i
To output an MP3 file, use: youtube-dl -x –audio-format mp3
For more advanced options, refer to the youtube-dl documentation.
Choosing the best video downloader for your needs
If you want to download a YouTube video and already have a Premium subscription, it will be fine to use your subscription as long as you don't mind accessing the app to see the video and the risk of losing the video.
However, if you're serious about collecting the videos you like and need, and building a great archive that you will own on your device, the best option out there is, without a doubt, YTD Downloader. Using other downloaders to save videos might not work for all websites and may not give you good options for different quality settings.
YTD Downloader is easy to use, downloads videos fast, at their original high quality, without ads, and has an excellent premium offer if you decide to invest in its paid option.